Orla Hylleberg Eriksen - Programmings, Vocals and Guitars.

All songs are composed and recorded during May - August 2015
Produced by Orla Hylleberg Eriksen.

Cover art by Niels Bo Rasmussen.
In May 2015, I wrote the epic first and named the album after the title, but I wasn't happy with this title, since I've already have made an epic called "Living on the edge" and also named the album after that. I wanted the album should deal with aspects of the Moon or moon-things. I thus wrote the song "Moon People" and it became clear that this would be the name of the album.

For some time I have tuned a guitar to drop-D or even drop-C to record low pitched riffs. In the start of April I was able to put an order on the Kielsel/Carvin web-site in the USA. My choice was a Kiesel Vader 7 - a seven stringed headless monster. In the end of May I recieved the guitar and recorded all songs exept the epic with the guitar.

Programmed, recorded and mixed on Steinberg Cubase 8.01 - 8.02

VSTi og plugins:
Native Instruments B4, Pro 53, G-Media M-Tron, Synth1, EVOL, Sylenth1, Embracer, Prologue and Steinberg Groove Angent SE and HALion Sonic SE. Kjærhus Audio Plugins. Vocal treatment: Steinberg VariAudio. Mastered with T-RackS CS as plug-in from Steinberg WaveLab 8.
Keyboards and soundmodules
Roland D50, Roland A88 and Roland M-GS64 Sound Module.
Guitars:
Steinberger Spirit and Kiesel Vader 7.
Hardware:
Lexicon MPX 100, and t.c. electronics M360 Reverbs, dbx 266XL compressor, Yamaha MG16XU Mixer, dbx 376 Tube Channel Strip and Røde NT2A Microphone. Echo Layla soundcard. Boss GT-3 guitarmultieffect.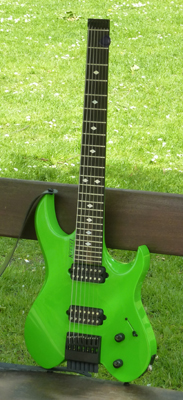 Kiesel Vader 7